Mend Review for Telemedicine & Telehealth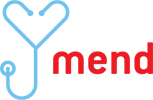 Mend Telemedicine Review
Mend is one of the highest rated platforms for Telemedicine online so you don't have to only take our word for it. The great part is that they go well beyond Telehealth. Consider this a communications platform for all of your front-office needs.
This is a software platform that is very affordable, enterprise grade, and going to solve way more problems than just adding virtual video visits to your practice. AND other online reviews from customers always seem to mention how great their customer service and tech support is… if you even need it.
Some of the postings online do mention connectivity as one potential downside. However, Mend seems to have a lot of tools to assist if there are connection problems. Remember, this is probably the patients first time doing a virtual visit so there could be a learning curve.
Instant tech support is available if staff or a patient needs it
Connection instructions in multiple languages
Automated testing built into the reminder process
No hoops like extra software or registrations to folks get connected
Real-time video connection status during the visits
The latest video technology is used that can operate with great quality on a fraction of a megabit at 250 Kbps
We've witnessed the technology work extremely well even in large Medicaid populations!
Beyond video visits, they also support messaging visits with full patient scheduling.
Integrations are also where Mend seems to have everyone beat. They have the ability to communicate bi-directionally with just about any other system out there on the market. We're not exactly sure how they accomplish this, but we've seen it work in real-time with systems that have zero HL7 or API support. It's really incredible technology. This is a huge consideration long-term!
But wait, there is more… this is a communications platform that goes beyond video to finally introduce automation and paperless solutions. Here are some examples:
Referrals
Orders
Leads
Demographics
Payment – insurance & credit card
Agreements & consents (e-signature & multi-signature forms)
Medical histories
HPI & ROS
Delivery of clinical summary/education back to patients
Satisfaction surveys
Treatment plans
Income verification
Appointment reminders
Photos
Other electronic files.
Finally, another very useful tool is that all of this can be wrapped up into various kiosk modes for paperwork automation and virtual visits. THis has many applications in healthcare including various inpatient scenarios.
We hope you enjoyed the Mend review and we wish you great success if modernizing care for your patients and clients.
Mend Editor rating as a Telehealth solution:





View a full Mend product comparison to other viable Telehealth solutions
Mend website:


https://www.mendfamily.com/